Posted: Tuesday 19 September, 2006
On Thursday we got our latest pigs back from the butcher, having taken them to the abattoir for slaughter on the previous Tuesday. So for the past 5 days I've been chopping, mincing and salting pork from dawn to dusk. Well, not quite, but at times it's seemed that way.
This year we decided to make our own sausages, so the butcher provided us with all of the trimmings fresh and unfrozen. I prepared the trimmings on Friday night and minced up a pound for us to test some recipes. I fried up small patties of each, and we had them on rolls. We tried plain pork, pork and chive, white pepper and hot and spicy. The clear winners were pork and chive and white pepper.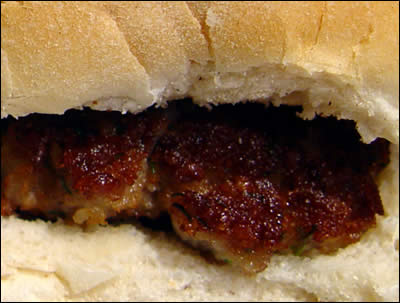 So on Saturday R and I spent the best part of the day in the kitchen making the pork and chive and white pepper sausages, and we also made boudin blanc. This is a large pudding made with chicken, pork (lean and fat), breadcrumbs, cream, onions, white pepper and all spice. The puddings are gently poached for about 20 minutes, allowed to cool for 24 hours, then fried and traditionally served with fried apple rings. We've frozen ours and will try them later this week, but they smelled very appetising when poaching.
We also had two fresh whole bellies, weighing about 16lb each, for bacon (the picture below shows two quarters of a single belly). These have been prepared over the past 5 days with a very simple dry cure of salt and saltpetre, and are currently hung drying in our garage. Later this week I'll fire up the smoker and they will get at least 24 hours over oak smoke, producing (we hope) the most wonderful bacon.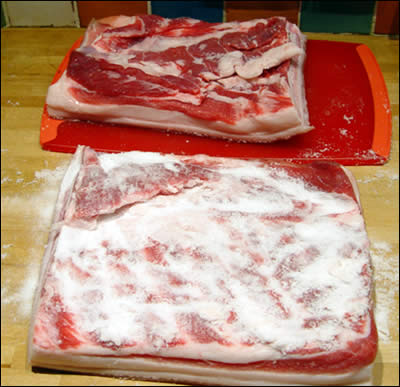 I'll be updating the pig articles over the coming weeks with details of the sausages, boudin blanc and bacon, and the results of some planned smoking experiments, including eggs.