Monday 17 October, 2005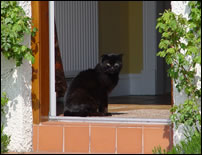 Sad news. We had to have Homer put to sleep this morning. He had been diagnosed with chronic kidney failure some weeks ago and had been on medication to alleviate the symptoms. However, it became clear this morning that he was failing fast. Our vet came to the house and it was all very peaceful at the end.
We've had nearly two good years together. Homer went from living under the bed to being first to greet us on Friday when we returned from a few days holiday. He had his place in the sun and by the fire; he was never cold or hungry and knew only kind words and gentle hands. He was content, I think.