Tuesday 16 November, 2004
Now the nights have drawn in, and there's less to do in and around the smallholding, it's time to turn our focus back to this site a little. We've loads of gallery images to add, and we're trying loads of new recipes, so these will feature soon.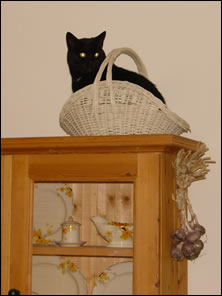 This entry is about Cas though, as nosy a cat as you could ever meet. Leave anything open and he's into it - cardboard box, garage door, coal bunker, greenhouse, anything.