Posted: Thursday 21 September, 2006
Last Saturday, I brought Smikey home for the first time. He's at a livery yard about three miles away, where he is really settled. However, I thought it woudl be nice to bring him home for at least a couple of hours.
To put you in the picture, I bought a Highland pony with the intention of learning to drive. Many, many years ago I would sometimes see a gentleman with a chestnut pony in a trap and I always thought it would be great to try this. Anyway, I've had Smokey four years now but haven't done anything about it. Until now...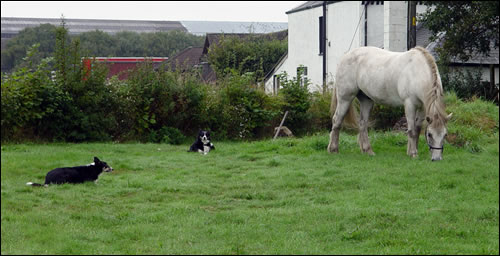 Because Smokey has no shoes on, he needs to get regular work on tarmac to make his feet grow and toughen up. My EP (equine podiatrist) has advised that he is to have at least 20 minutes per day walking on tarmac. An instructor I have been following (Kirsty Logan) recommends driving the horse rather than leading, to encourage the horse to be brave. So the two came together and I started driving Smokey for his 20 minute walk.
Initially, I was using my horseman's halter, 12 foot line and 22 foot line, but I have purchased a roller, which really helps as it stops the lines falling on the ground if Smokey dips his head. Smokey has taken to this well - we've been into the village, round past the roadworks, past buses, motorbikes, barky dogs, goats and he's been really good. This made me resurrect the idea of driving. So I'm thinking about investing in a cheap-ish set of synthetic harness.
The next stage is to get Smokey comfortable with dragging things, so that might be this weekend. I've done some desensitisation already.
So, the point of this is that I long-reined Smokey home last weekend. Dan came with us, and that was helpful for getting across roads and the scarey speed bumps. Once home, he had a rest in our field, accompanied by Tess and Meg (but mostly Tess) then we went back to the yard.