Sunday 6 August, 2006
Pretty much stolen from HFW, but it's so good I had to post it - Half-the-garden soup.
Friday 18 August, 2006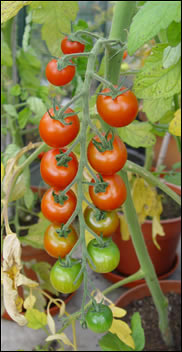 No, I'm not looking for surgical support! I'm actually on a quest to replicate those perfect, uniformly ripe trusses of tomatoes on the vine which the supermarkets produce and peddle at exorbitant prices. Naturally mine will taste vastly superior, but that's no challenge.
This year I've done much better with my tomatoes than ever before, thanks largely to Sarah Raven's excellent book The Great Vegetable Plot. I've followed her advice of watering from the bottom and feeding from the top, and the results have been brilliant, especially for my cherry varieties, Sweet Million and Super Sweet 100.