Sunday 26 April, 2009
We picked up this year's weaners yesterday; three gilts this time as the litter available only had two boys and we prefer to have all the same sex. These are 7/8th Tamworth and the last cross-breeds that Sue and Mike are doing; it's all pure Tamworth now.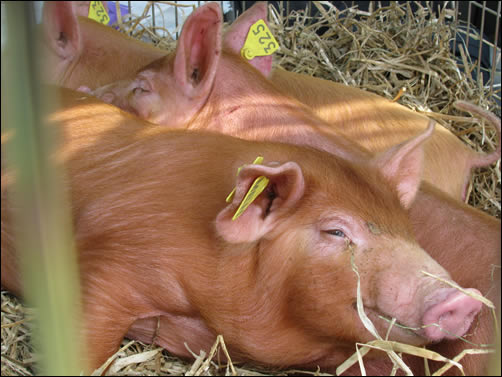 We got them loaded, home and into the pen without incident. Then I did a really stupid thing. Our dog, Tess, loves the pigs so I took her to see them. The pigs were less than happy and two of them wriggled through a gap in the fence into the second pig pen. The second pen has bigger gauge netting, so they wriggled through that as well, into the next field and then set off along the riverbank. Fortunately, one didn't get out and was calling frantically so when the other two discovered they were one down and didn't know where they were going, they were fairly easy to get back to the correct pen. Sigh of relief!