Posted: Sunday 26 April, 2009
We picked up this year's weaners yesterday; three gilts this time as the litter available only had two boys and we prefer to have all the same sex. These are 7/8th Tamworth and the last cross-breeds that Sue and Mike are doing; it's all pure Tamworth now.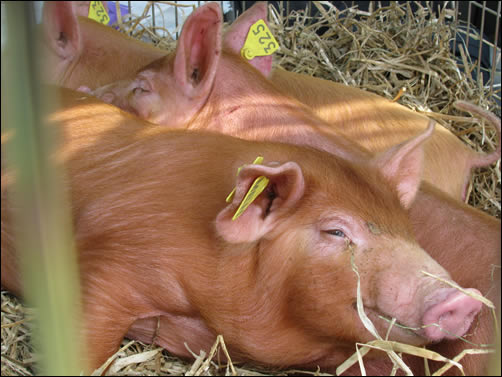 We got them loaded, home and into the pen without incident. Then I did a really stupid thing. Our dog, Tess, loves the pigs so I took her to see them. The pigs were less than happy and two of them wriggled through a gap in the fence into the second pig pen. The second pen has bigger gauge netting, so they wriggled through that as well, into the next field and then set off along the riverbank. Fortunately, one didn't get out and was calling frantically so when the other two discovered they were one down and didn't know where they were going, they were fairly easy to get back to the correct pen. Sigh of relief!
Then one found a weak spot and wriggled through into the garden! Anyway, all were finally where they should be and settled. The fence has now been properly secured and a couple of lessons learned. I think it was a case of familiarity breeding contempt - we've never had an escapee, so we were a bit slack about securing the fences.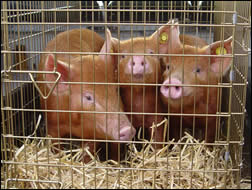 This morning, they didn't surface until 10am. I started to get a bit worried about them but eventually, three heads appeared out of the straw nest and the exploration of the pen was resumed. They had a bite of breakfast and I sat with them for a while. After about 20 minutes, they were happy to sniff me all over, but I didn't attempt to touch them at all. I may be losing it, but I think that if I "grunted" when they grunted, they relaxed a bit and were more willing to approach me. Apple slices will help even more, I'm sure. One of the escapees has a graze along one side but it's dry and healing so I'll leave it be.
By 11.30am, they were back in bed. Some friends came to see them but the most we could see were three heads - after looking us over, the pigs decided that sleep was more attractive and snuggled down again. Actually, it's so cold and windy here today, I don't blame them one little bit!