Posted: Friday 18 August, 2006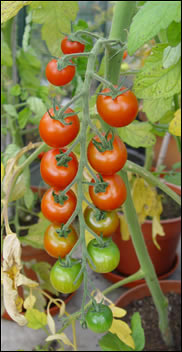 No, I'm not looking for surgical support! I'm actually on a quest to replicate those perfect, uniformly ripe trusses of tomatoes on the vine which the supermarkets produce and peddle at exorbitant prices. Naturally mine will taste vastly superior, but that's no challenge.
This year I've done much better with my tomatoes than ever before, thanks largely to Sarah Raven's excellent book The Great Vegetable Plot. I've followed her advice of watering from the bottom and feeding from the top, and the results have been brilliant, especially for my cherry varieties, Sweet Million and Super Sweet 100.
The Ailsa Craig have done less well, so there's room for improvement next time around.
Pictured to the right is the closest I've come to that supermarket perfection. But the fruit naturally ripens from the top down, since the top buds flower first and thus set fruit first. The challenge seems to be to get all the fruit on a truss to swell and ripen in the quickest time possible, avoiding over-ripeness at the top.
The quest is really just a minor diversion to keep me interested in watering and feeding them, but if anyone does know the answer please share!