Posted: Wednesday 17 August, 2011
Rearing sheep
A Little Piece of England was first published under the title A Bucket of Nuts and a Herring Net. The nuts were pony nuts and the herring net was what we trapped our small flock of sheep in. We did not have a sheep dog and when we wanted to catch the flock up for inspection, foot trimming or spraying against 'strike' (blow flies laying their eggs in the fleece), Sue, my elder daughter, and I would enter the field together suitably armed.
Sue rattled a plastic bucket half filled with pony nuts and when the sheep, some twenty of them, were gathered round her I would cast a length of herring net I had concealed behind my back over the lot of them. All that was then left to do was to extricate Sue from the flock and deal with the surprisingly docile animals one by one.
Alternative Methods
That is not a technique you are likely to find described or recommended in any book about shepherding or self sufficiency- but it worked. It was also typical of the way we managed our family life - learning and inventing our own ways of dealing with problems as we went along.
Sometimes we were given advice. I have happy memories of Len a local delivery man. In his youth Len had been a bricklayer and it was he, sitting in the sun with a tankard in his hand and watching me struggle to lay bricks, who told me that the best way to stop mortar from 'going off' was to piddle in it. For a time I considered titling the book Piddle in your Mortar. That's a thought!
About John Jackson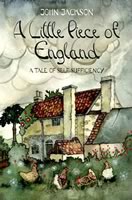 John Jackson is the author of A Little Piece of England: A Tale of Self-Sufficiency, which tells the tale of how the he and his family, living in a sliver of countryside in London's commuter belt, came, over some ten years, to make itself self-sufficient. At the time, John was on the Board of Directors of the electronics company, Philips, and his wife was raising their three young children so it was the ultimate 'spare time' project.
To buy the book, please head to amazon.com or amazon.co.uk, where it is available as an ebook or in paperback.
Next on the book tour
To find out more about the book, please join us at our next stop on the tour: www.livingasimplelife.com on Thursday 18th August.