Posted: Monday 15 May, 2006
Despite what you might have heard, sometimes the grass really is greener on the other side. At the weekend we moved the pigs into the second pen, which was full of lush grass and succulent docks.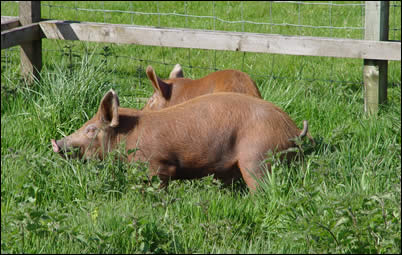 They had a brief mad moment, overcome with excitement, but soon settled down to some serious eating. We'll probably keep them in this pen until they go to slaughter, giving me time to sow something in the vacant pen which is now almost devoid of foliage and well-manured. That way it should be ready for next spring's weaners.