Posted: Sunday 7 May, 2006
When we first moved here, there was a pretty scruffy area on the west side of the cottage. It had been a vehicle entrance for one of the cottages and it ran betwen a hawthorn hedge and the house. In due course, we had a wooden ranch fence built at the north end and the area slabbed in grey York stone. A couple of years ago, I decided to do something with it and make it into a courtyard garden.
We put a trellis fence at the south end and lifted some slabs to create a small bed with a pebble pond. We planted climbers on the trellis and the ranch fence, planted up the small bed and lots of pots. All the planting was green and white. I never got round to buying any furniture for it. We decided to do a bit of work on it over the last couple of weekends.
We cleaned out the pond and lifted more slabs to create another two beds. It's been planted up over the last week and we're rather pleased with it. I have left three pots in it, all planted with white lilies, which are beautifully fragrant. I was worried that if I moved them, they might at best not flower and at worst, die. Although I bought some new plants, mainly hardy perennials, I did plant out a number of the plants that were in the pots. I'm sure they are grateful - I'm not very good at pots and don't water them regularly enough.
Some of the plants we have included are: Digitalis Albino, Aquilegia Spring Magic White, Spiraea Bridal Wreath (we have one of these in the courtyard already and it is so beautiful just now), Chrysathemum Silver Princess, Anemone Honorine Joubert, Centranthus albus, Solomon's Seal, Lupin Noble Maiden, Geranium clarkei Kashmir White, white drumstick primula.
There is also a white fuchsia called "Hawkshead", which I had in a pot last year, Hebe Baby Marie, a couple of hostas, and Dicentra alba. We've excluded the hens, who can destroy an area in a jiffy. They do like a hosta!! I've also seen a table and chairs that look just right, so they will be arriving soon. We'll just have to see how it goes now, but I'm hopeful that it will be rather lovely in the summer, so we can relax there, with the scent of lilies, a G&T and the soothing sound of trickling water.
Courtyard 2nd August 2004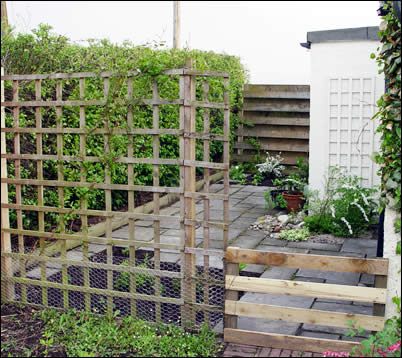 Courtyard 7th May 2006