Posted: Sunday 23 April, 2006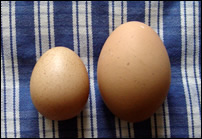 Our Light Sussex pullets have started to lay - and they lay the weeniest eggs. They're popping them out like there's no tomorrow. We can't sell them so we're using them ourselves; they're fine for scrambling and Dan used some for custard today but you'd never manage to cut a soldier thin enough to have them as boiled eggs. Anyway, we've decided to pickle them - they are a perfect size for lunchboxes.
Oh, and Henry seems to have realised that we didn't just buy him for his plumage and his cock-a-doodle - he has been seen "dallying" with his wives, so hopefully we'll be able to hatch a few chicks soon.