Posted: Sunday 27 March, 2005
This is my new(ish) project. We have a small slabbed area on the west end of the house. It faces South and gets a reasonable amount os sun, particularly in the afternoon. It is enclosed on three sides, by a hedge (west), a high fence (North) and the house (East). It was pretty grotty, although it was slabbed with quite nice Yorkstone.
Last year, we decided to turn it into a courtyard garden. The idea is that this will be a quiet area for relaxing in with a G&T, after the rigours of the day.
We put up a screen on the south side and lifted a few slabs to make a small bed into which was put a small water feature. This year, I've resumed work on it.
The planting will be green and white, with fragrance. I have five climbers in already: white clematis "Duchess of Edinburgh" and a white honeysuckle "Lonicera japonica Halliana" and another three whose names I can't remember. Two of the three planted last year look a bit sad - the predations of the hens and various sheep haven't helped. Still, they've had a dose of comfrey liquid, so hopefully they'll come away.
I'm using mainly containers, although I might lift a couple more slabs to make another bed. I'm waiting for a delivery of "Muscadet" oriental lilies, "Hawkshead" fuschia and white container geraniums called "Blizzard". We bought a few more containers last week, so it looks less empty.
We do need to get a table and chairs. I know what I would like but I haven't seen it yet.
Dan's putting on a few before and during photographs, all from 2004. We'll put on some from this year as work progresses.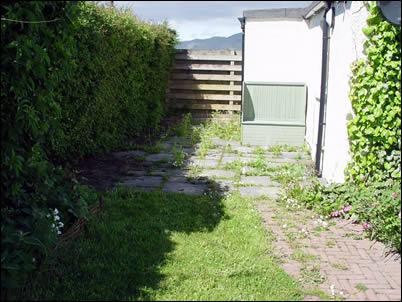 Courtyard before, 15th May 2004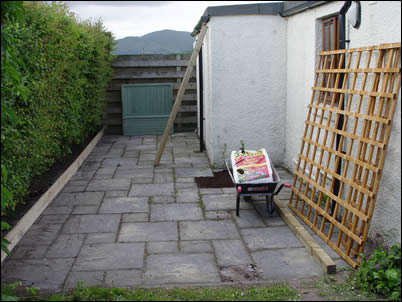 Courtyard in progress, 19th May 2004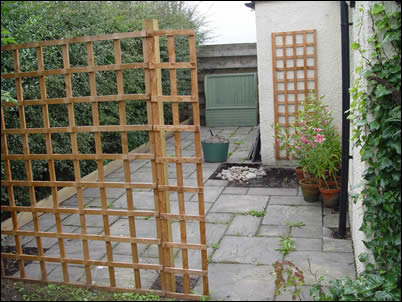 Courtyard getting there, 2nd August 2004