Posted: Saturday 24 November, 2007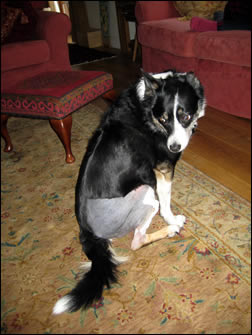 Tess finally had her surgery on Thursday to repair the damage caused by the rupture of her cruciate ligament. She seems to be none the worse for it apart from a bad haircut! We've taken the wee bandage off her front leg but we're not brave enough to remove the dressing from the site of the operation - hey, that's what we pay vets for!
The report from the vet is that the surgery went very well. This problem usually arises in old dogs where there is degeneratin of the joint - because Tess is young, the joint is in good condition. The surgery - tibial plateau levelling osteotomy - involved stabilising the stifle joint by making a curved cut in the shin bone and altering the shape of the bone using a steel plate and screws, so it doesn't actually repair the ligament.
She's on reduced food and exercise for a week, then she can start going for a walk on the lead building up over 6-8 weeks until she sees the surgeon again. She can't have any free exercise until he sees her and Xrays the joint to make sure everything is OK.
All in all, she's doing well. She's a wee bit stir crazy and obsesses about the cats, but she always did that a bit. We'll keep you posted about her progress.