Posted: Saturday 24 July, 2004
Yesterday I got the last pieces of the jigsaw that is our home-built smoker - a length of tubing for the propane gas bottle and a couple of retaining clips to keep it firmly connected to the boiling ring and the bottle. So last night we assembled it, set about discovering its nuances and put one of our Wiltshire cured hams in as a first try.
During the night I made adjustments to the gas ring every 3 hours and added sawdust as required. The temperature ranged from 20-40 degrees centigrade, at first, but settled at a perfect 30 degrees once I'd got the hang of it.
This morning, fairly confident that I could maintain a steady supply of smoke at a fairly constant temperature I hung the 2 sides of belly pork in to be smoked for 24 hours. I've just removed the ham from last night, boiled it briefly in water and it's in the oven baking. Photos to follow.
I'll produce a page with details of how the smoker was made later, but here are some photos from last night:
1. The boiling ring, from the Outdoor Megastore: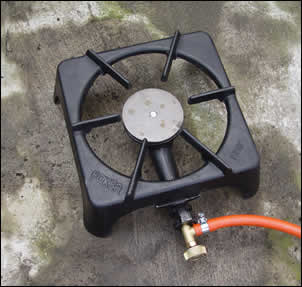 2. A bottle of propane gas, hooked up to the ring: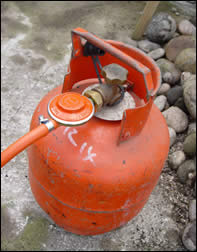 3. The smoker base. The hinged flap on the front allows access to the baffle plate where the sawdust sits: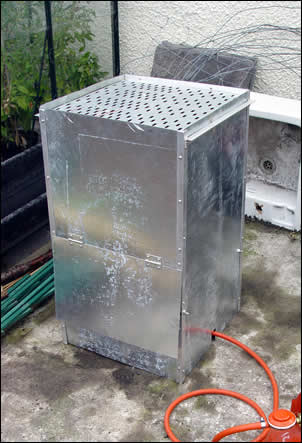 4. The smoker cabinet. At the bottom you can see the diffuser which should distribute the smoke more evenly, and at the top the three bars for hanging food from: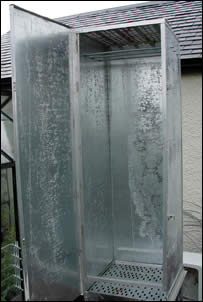 5. The baffle plate with sawdust in place: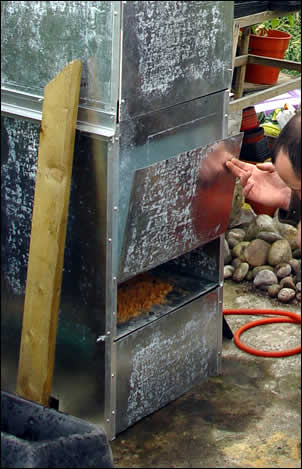 6. The smoker fully assembled with the cabinet on top of the base: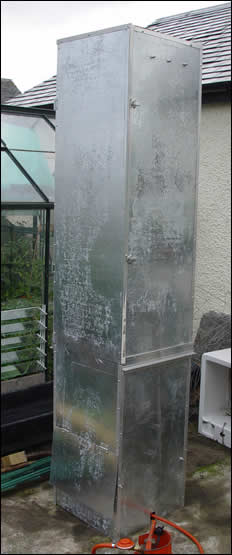 It's huge, standing over 7 feet tall, but will accommodate a lot of food to be smoked at the same time, and should work as a hot smoker too. The plan is to use this for a year or so, then build a brick smoker with integrated barbecue next summer.
I should point out that it was built by my dad to a design we both refined - I wouldn't have a clue where to start, but being a former metal-worker he can clearly work wonders with the stuff.