Posted: Saturday 3 April, 2004
The last of the pork from last year's Tamworths was defrosted overnight, in readiness for the weekend's main event - sausauge making. Over the past few weeks we've gathered together everything we needed: 2 sizes of casings, from the Natural Casing Company; a nozzle attachment for our Kenwood Chef; acidophilus from the health food shop in Stirling; and finally a good sized gigot and rolled shoulder from the freezer. We'd also identified our recipes, one for pork sausages and one for salami, both from the River Cottage Cookbook.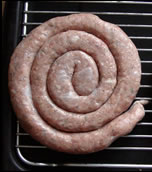 In the end it was easier than expected to get reasonable results, once we'd mastered the mincer attachment for the food processor (the trick was to keep it at a high enough speed for it not to clog with stray sinew). Although a bit uneven we're proud of the kilo of pork sausages we made, one of which is shown here. The small amount of sausage meat left over was fried and tasted superb, so hopefully the sausages will prove to be as tasty tomorrow - they need to sit for a day or so to let some of the moisture leech out.
Tomorrow will also see the salami made. The process is similar, but the end result should be quite different. We'll post photos of any spectacular moulds!