Posted: Tuesday 20 February, 2007
I sowed some more seeds this weekend - cucumber "Rocky F1", pepper "Marconi Rossa", pease "Greenshaft" and broad beans "Aquadulce Claudia" - plus some salad (which is already sprouting two days later).
I'm particularly pleased with the peas and beans. We lost a major part of the crop last year to pea and bean weevil so I'm starting under glass this year. I've sown into guttering, cut to the length of the raised bed, so the transplanting will be a case of sliding the seedlings straight into the bed, in the existing compost.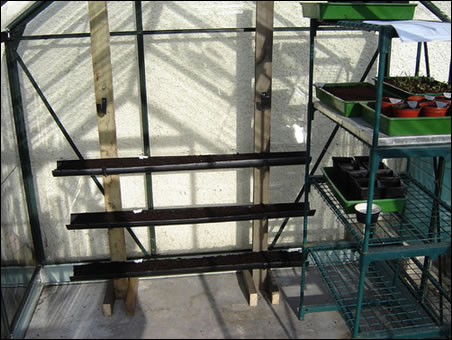 Dan built me a frame to hold the guttering - it's just to have more holders fitted once I've been to the builders' merchants. I think it will hold 10 lengths of guttering, which will be enough to get on with. I will direct sow peas and beans later in the year, but hopefully this will get them off to a flying start.