Posted: Saturday 14 January, 2006
Well, we got our new hens today - or to be accurate, our six Light Sussex pullets and Henry, our Buff Sussex cockerel. More of the pullets tomorrow - but Henry is the main man, king of the dunghill, cock on the rock etc etc.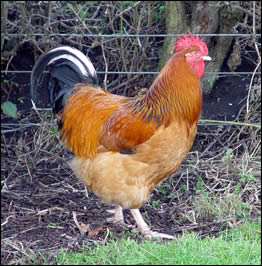 Mr Ogilvie, from whom we bought our new poultry, had very kindly caught both a RIR and a Buff Sussex cockerel. The RIR was a fine bird - but then we saw Henry! He really is quite magnificent. The photo does not do him justice. He moves awful fast and he's not very keen on folk with cameras (or folk in general, see below).
Having brought him home in the cat basket, we decided to be brave and put him in with our girls, who had been confined to the run for the morning. It WAS our intention to keep them confined all day, to "bond" and for Henry to find his way into the ark. We put him in "upstairs" and waited. And waited. The girls were staring expectently up the ladder then Henry, in a whoosh, made his descent.
The Leghorn was NOT impressed - boy, did she lay into him. So did a couple of the Rhodies! He must be at least twice their size, but that didn't deter them. It wasn't pretty. I can see why cock-fighting was banned. And Henry barely retaliated - I don't know if this is good or bad. Anyway, we decided that he needed to escape so we let them out.
Eventually, the hens seemed happy to let him stay with them. At first, they seemed to be running off and leaving him to wander about on his own (awww). Then came bed-time. All the girls went to bed. Henry decided to make his own arrangements which involved bunking down beside the french doors. This didn't seem awfully sensible to us, so we decided to "herd" Henry into the ark. Not a chance. He's fast and agile; at one point we thought we had lost him into the scrub beside out field. We had a torch, a sheet to throw over him and a corral of chicken wire. None worked.
Eventually we managed to herd him into the garage and trapped him behind Dan's bike. He has a few fewer feathers than he had this afternoon, but at least he's not a) frozen or b) a fox's breakfast. He made the most frightful noise when we caught him and carried him back to the ark. We put him in beside the roosting hens and waited. All quiet - with all the running he did evading us, he must be exhausted.
Tomorrow, cock fight or no, I think Henry and his six wives will be having a quiet day in.