Posted: Friday 8 April, 2011
Well, that's our 2011 lambing, and our first at Dalmore, over. Rather unexpectedly in the end. We thought Jura wasn't due until the 20th, but she must have held to her second service and gave birth to two tup lambs yesterday teatime - one black and one white.
I had gone to feed the other ewes, looked in the field and there she was, with a black lamb. He was up and tottering around, so we brought them in. It was clear she was going to have another one, but since she wasn't getting on with it, I thought I'd better have a guddle around, as Dan describes it. Watched by our neighbour, Rebecca and her son, Sam, and John (no pressure), I had the guddle and said "Flip" (or similar), "only a head!". Fortunately, Jura's a third timer and quite a roomy sheep, so it was no bother to bring the legs out and, in a jif, twin No.2 made his appearance.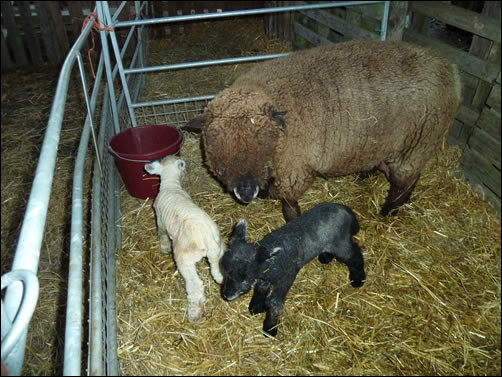 Both are good strong lambs, Jura's a great mum and it's been glorious here (24C), so they had their makeovers and went out this morning. They all looked fine and well mothered up at feeding time tonight.
So that's it - six ewes, nine live lambs, one dead; three white ewe lambs, one black, two white tups and three black. It's lovely to see them out in the sun.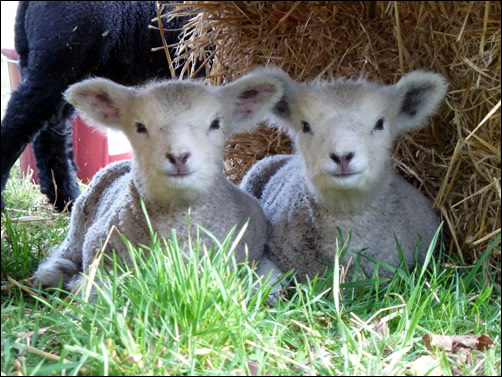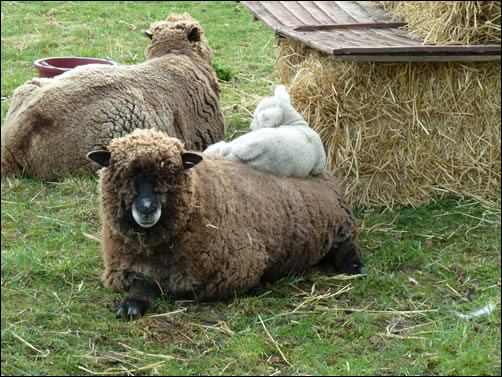 I cleaned out the lambing box and tidied it away for next year and took down the lambing pens this afternoon. Sunday, we'll give the ewe lambs their makeovers and get them into Sheepfold, then do the boys. Next will be the Heptavac- must get that in the diary now.