Posted: Sunday 20 March, 2011
Well, we finally turned the Shetland heifers out this morning. We blocked off as many potential escape routes as possible, put the sheep in the south side of the field and the ponies in Sheepfold. With us and our helpers strategically placed, I opened the gate of the byre...
Well, they were a bit tentative then OFF they went. They stopped a couple of times for a look around then out into the field, kicking and bucking. Round the perimeter they went; the ponies were cantering up and down the track in Sheepfold and the sheep skedaddled across their field.
I don't thnk they've laid down today - they will be soooo tired.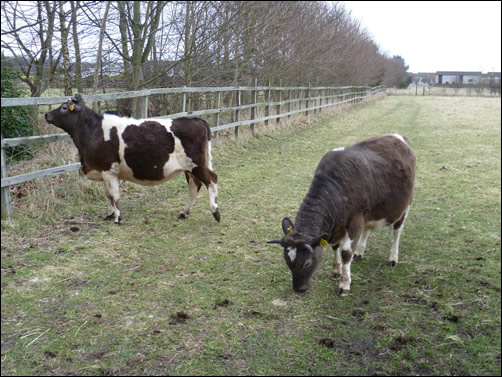 John finished the field shelter this morning - we think it looks pretty good and should be useful. And tonight it was. At teatime, I brought the sheep into the field shelter to feed them then put the heifers into the south field. Once the sheep were finished eating, I brought the heifers into the field shelter and fed them. They were fine - had a nice scratch, some cake and some hay. They weren't desperate to go back out. Tomorrow, they'll get their halters on again - back in the old routine.
The reason for swapping the heifers and the sheep round is that the sheep will start coming in at night from tomorrow, so I can keep an eye on them over lambing time.