Posted: Tuesday 6 December, 2022
Monday 28th November
Beautiful day.
Bertie had a productive night in the feed store. We know this because there was a pile of cat sick with a dead mouse in it this morning.
Tom had his annual visit to the vet. His teeth aren't fab, but they don't need work this year. He had them scaled and polished just a year ago.
Tuesday 29th November
I moved the ponies' electric fence. They do leave a tidy edge.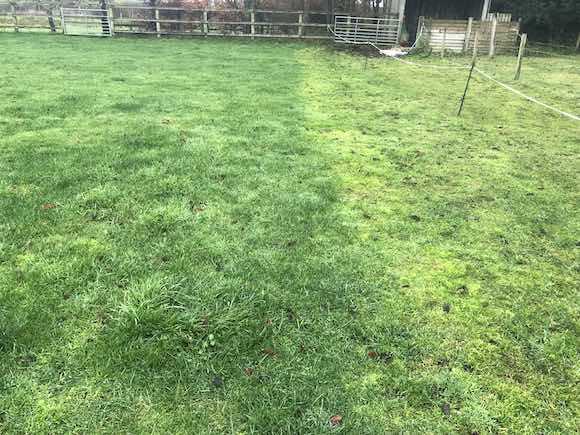 A tidy edge.
Wednesday 30th November
The dogs have made a den under my desk.
Thursday 1st December
I made a start on the freezers – defrosting and reorganising. The wee under-counter one in the kitchen was first.
Friday 2nd December
Dan and I had lunch at the Guardbridge Inn, after collecting the three bowls he made on his pottery course. I am well impressed.
On to the upright freezer today – it now has all the fruit and the peas. Loads of cooked apple.
Saturday 3rd December
Finally finished the freezers. Managed to shut down another of the four chest freezers. We have eight chickens left, a lot of rabbit for the dogs and a lot of hogget and mutton for us. I found one little pack of lamb's liver – that's mine.
Sunday 4th December
Last apple press of the year; Dan's going to crush the remaining apples for the cattle, which love it.
It doesn't feel awfully cold, but the ice I threw out the freezer yesterday morning is virtually unchanged. Andy and Dan cut some wood; as areward, I cut the Creole CHristmascake. It's like dumpling. Weird, but tates amazing. Had it with custard for pudding this evening.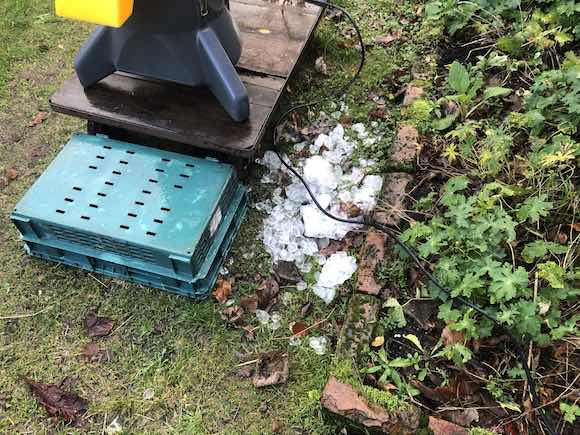 Must be colder than we thought.