Posted: Monday 19 May, 2008
Have you ever seen a chick sleep standing up? We have.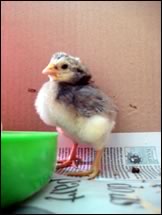 To try and make sure Chip didn't grow up into some kind of oddball, caused by spending his formative months with a felt mouse, we bought 6 day old Black Rocks today. Chip's world has been turned upside down. Unlike the felt mouse, these girls move, cheep, peck, push, shove. And really tire a wee Chip out!
When Dan introduced the, Chip hid in the feeder, but he's a bit more sociable now.
When I came home from work tonight, Chip looked worn out - he was standing up but hie eyes were closed and he was nodding. Then he'd rally, have a peck at his new companions, get pecked, eat some chick crumbs, have a drink, then start nodding again. The six girls seem to rest in shifts, and Chip doesn't seem to be able to relax when any of them are on the move. I hope he's sorted himself out by morning!
The six Black Rocks look like wee, black pom-poms but they are very active and robust - fortunately, they are smaller than Chip (for now). He does kind of stick out like a sore thumb, being cream and brown - call it distinctive, if you like - but I'm sure when he's a full-grown cockerel, they will treat him with due respect!
Hard to see it right now, though.