Posted: Tuesday 18 October, 2005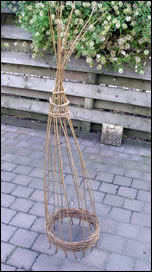 Dan and I had a few days away last week at Oasis (Center Parcs Penrith), with Lorna. Instead of doing sporty things, I signed up for a class on willow weaving. We have some willow in the garden, given to us by Carol and Graham, and Dan keeps suggesting we should do something useful with it.
There were seven of us in the class, run by one of the Rangers. In an hour and a half, we each made a willow plant support. The fun part was trying to get it in the car to bring it home - there was no way I was leaving it behind!
Now, I know it's not quite straight, but with some sweet peas growing up it next summer, it will look just dandy.
However, I'm not giving up the day job just yet.