Posted: Tuesday 7 July, 2009
As the strawberry harvest gets well underway, both Dan and I have made strawberry jam. Dan made his special "twice boiled" jam - because he couldn't get it to set first time and was persuaded to tip it back into the pan and have another go. Actually, it's very nice, better than mine, I think, but all will be revealed at the local Horticultural Society show in September. The raspberries are doing better than expected. We're planning to replace them this year and they looked a bit neglected, but they are cropping well. If I could only grow one soft fruit, it would be raspberries. I love a handful, freshly picked, on my breakfast cereal.
The broad beans are ready for picking. We've some blackfly, so we'll need to treat that. I did sow poached egg plant to attract lacewings, but I think I was too late for it to be effective. Following the top dressing of seaweed, the sweetcorn looks better but if it doesn't get a spurt on, we'll be harvesting in November! The peas are coming on, but the dry weather might reduce the crop. The weather's changed - it's been quite wet here on and off, which will help.
Trying to keep the place reasonably tidy is an endless task - Dan spent half a day weeding the comfrey bed and sweeping up the path. The hens have decimated the comfrey this year, which is a pity because the bees do love the flowers.If we'd planned things better, we'd have put all the fruit and vegetables, including the comfrey, inside a hen proof fence and just let them in during the winter. Next time!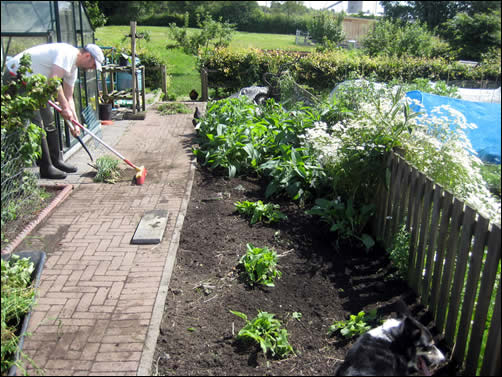 We've decided to try for self-marinating chicken. A couple of pots of coriander had flowered and had a good covering of greenfly, so we stuck them in for the Hubbards. Boy, did they enjoy it. We might try sage next time! They are growing well - and we have a mixture of white and brown ones this time. They mature at different ages, but I can't remember what they are - and it doesn't really matter to us.
The broody hen hatched four chicks. Two, unfortunately, were dead but the remaining two seem as bright as buttons, and their Mommy loves them very much. They are really cute - doesn't matter how many times I've had chicks, they still have the "Ahh" factor. One, the larger of the two, is quite bold and hops in and out of the nest box on its own, much to the hen's agitation. The other one is much shyer. I hope thay are both pullets.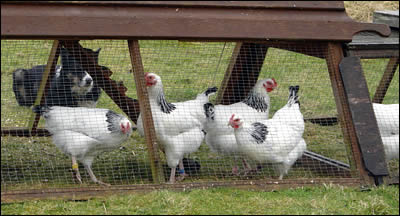 We try to encourage wildlife in the garden and in our field. We don't keep it too tidy (understatement and excuse) and a couple of years ago we put in a small pond. Now, it's not quite right. It's not level, so when it's full at one side, the other side still shows above the water line, but the birds and insects seem to like it. And so, it seems, do a pair of toads. We found them when we upended the chicken ark I was in the throws of painting and rescued them quickly before the hens got there. We took the two toads into the long grass and released them into a pile of stones that we haven't decided what to do with yet. This is the first year that the water lily has flowered and it's very lovely. My photography skills do not do it justice.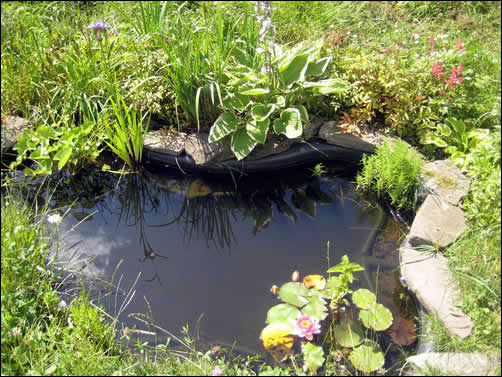 The wildflower meadow has become a sea of cow parsley and drastic action will be required this year to "refurbish" it. It was lovely a couple of years ago, but it's just a mess now. The Land Services manager at the Council asked me if I was entering the garden competition - maybe next year.
On Saturday, we were at Doune and Dunblane Show with the Central Scotland Smallholders' Association. It was a very pleasant day, in good company, but I'm not sure that it's the greatest recruiting tool. The pitch cost £70; if we didn't have Lottery funding, we wouldn't be able to afford it. To be honest, I found it a bit disappointing; I haven't been to D&D for a number of years and it seemed much smaller than I remember. Maybe I'm just bigger.
While I haven't got show fever, I thought I'd like to show Li'l' Bud. There are very few classes for Ryelands, let alone Coloured Ryelands, around here so I would have to go for "Any Other Native Breed" classes, but the few local shows left either don't have these classes or the closing date for entries is past. I may try again next year, either with him or one of next year's lambs. I may be biased, but he's a very handsome chap!