Posted: Sunday 28 June, 2009
Following our first strawberries last week, they are now ripening at a rate of knots. In fact, I think the jam pan will be on tonight! The gooseberries are being picked - Dan eats them raw, which gives me the heebie-jeebies. I prefer mine with a nice oaty crumble topping. We've had a real problem with sawfly, on both the gooseberries and the red and white currants. These little blighters can strip the leaves off a bush overnight. Sometimes, they can be controlled by hand stripping, but in bad cases, derris does the job.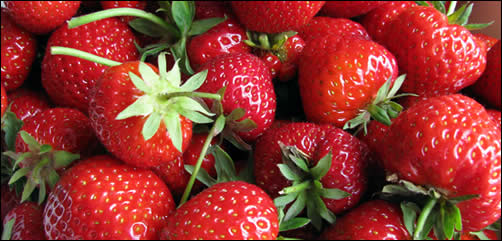 I've bought four bags of calcified seaweed and, now that it's rained, I'm going to top dress the sweetcorn, which is looking really miserable. I don't think the bed that it's in has the best soil, but it will get better as we get more organic matter into it.
The Hubbard chicks doing well - they're now four weeks old and growing like weeds. Dan gave them a pot of bolted lettuce yesterday - that was great fun. Eat it then dust bathe in the compost.
The broody is still broody. Thursday 2nd July is Day 21 so by next weekend we'll either have chicks or not. Our Cream Crested Legbar cockerel, Hugo, has settled into his new home and has found his voice - his new owner says it feels like she's really in the country now.
Lyra seems to have recovered from whatever ailed her. I'm so glad. I feel almost confident enough to splash out £5 to register her. She was playing with Dickie last night which was good to see and was running around just for the fun of it. Then all the sheep joined in - even Juno, who is a little porky, was springing around will all four feet off the ground. You may have felt the tremors as she landed!
The pigs are now 16 weeks and on 12lb of food each day. We need to find a new supplier - our usual one has closed down, unfortunately. Add that to the "to do" list!
We're expecting two new additions to the family in a few weeks - Harry and Bertie are two 9 week old black kittens, who are going to be our new rodent control, following the demise of Cassius in March. They were going to be called Merry and Pippin - before we had any cats, I wanted two tabby kittens that were going to be called Merry and Pippin after the hobbits in LOTR - but they didn't look like a Merry and a Pippin.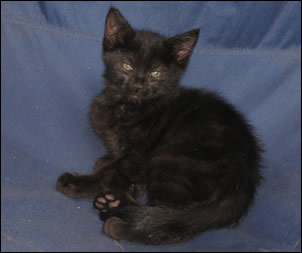 So why Harry and Bertie? Well, I looked at one kitten and the name "Harry" popped into me head, so that was that. We were then persuaded to go along a Harry Potter theme - Bertie has been provisionally Sirius, Dobby, Albus - he is now named after (as all Harry Potter fans will know) Bertie Bott, the maker of the famous All-flavour Beans. We can't bring them home until they have their second vax, because Felix carries Feline Herpes Virus (cat flu). So 22nd July is the big day - I'm excited a bit anxious about how the dogs and Felix will react but it's too late now.