Friday 13 April, 2007
If Dan or I are at home, Tess lives outside. She's always been an "independent" dog - we have a photo of her as a tiny pup NOT coming for a walk with us. We have considered getting her a kennel and letting her live outside. Actually, she's a really good watch dog - she's not aggressive but she's very good at letting you know if anyone's around.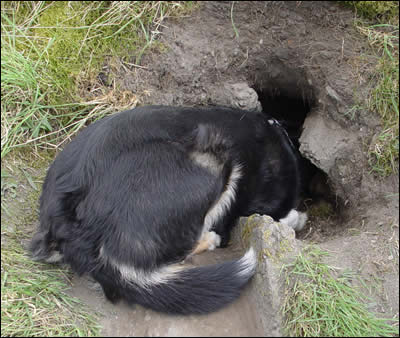 Anyway, it's baby bunny season, so Tess is practically living down the bunny holes. She has three or four that she moves between - her nose and front paws are permanently muddy (or given the dry weather at the moment, dusty). She never catches anything - I think she expects a bunny just to run into her mouth. In fact, she spent so long down a hole, unmoving, that Chris across the road was about to come and tell us that our dog had either died or collapsed.