Posted: Saturday 7 February, 2004
We are blessed with a wonderful location here at TAS, on the northern bank of the River Forth just west of Alloa. To the west we can see the Campsie hills, Stirling Castle, the Wallace Monument and Ben Ledi (this view features on the Archives banner). To the north the Ochil Hills, to the south Alloa Inch and across to South Alloa, and to the east the sometimes uninspiring view of Kincardine and beyond to Grangemouth. When the sun comes up this view can be anything but uninspiring though, and this morning was a case in point.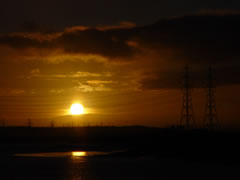 I'm getting the hang of my new digital camera and starting to understand the concepts of aperture, shutter speed and exposure. The camera is fairly forgiving though, and I'm not kidding myself I'm anywhere near becoming a competent photographer yet.