Posted: Monday 3 December, 2018
Monday 26th November
So today was the day that Paulo and Pedro, our 2016 born steers, made their final journey. It was only their second journey – the first being from Dalmore to East Pitkerro, where they have grazed and wintered for two years. It's always a bit of a wrench to see them go but they've had a good life and they'll supply a good few locals with prime beef with minimum inputs. As usual, we loaded them on to our trailer to take them to the haulier's wagon – they loaded quietly and calmly both times.
That just leaves Whyte and Mackay at East Pitkerro until Rockey and ruaridh go down at the end of December.
That done, it was off to pick up 10 wee bales of straw from Barry Mill – they'd been used a seating at events over the summer.
Jane came to trim Smokey's feet and did Leo's too. Leo showed Smokey how to do it – he was a wee gent. They're happy now to share a pile of hay - although there is another one available.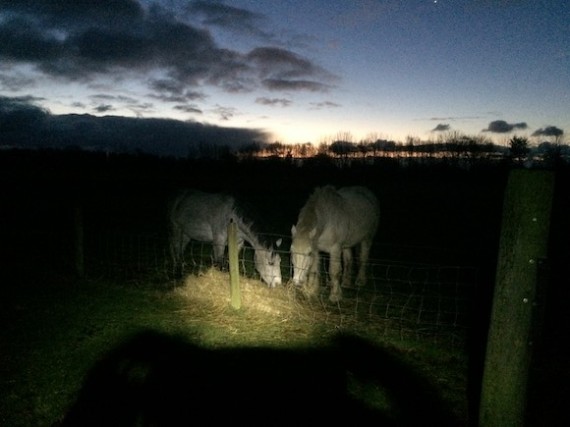 Sharing.
Took Tom to the vet for the first time since we brought him home from the shelter this time last year – just for a check up and boosters but he's to go back for some dental work. We thought that was very likely. He weighed in at 6.3kg – he's overweight but we're hoping that he's starting to realize the food's not going away and that he'll start to self regulate.
Our neighbour brought us a roe deer that he'd shot – so venison's on the menu.
Tuesday 27 November
Showery and sunny, then showery and windy – but not cold.
Completed the second draft of the Smallholding Scotland questionnaire
Did our last evening milking. Blizzard's yield has dropped to about 7 and 3 litres, am and pm, so I'll start drying her off by moving to once a day milking.
Wednesday 28 November
Wet, grey and windy.
Took Penfold to the vet for his post-extraction check-up – he has a wee infection at the extraction site, so he got an antibiotic injection and is to go back in a week.
Picked up two bales of hay – it's lovely stuff, right enough.
The ewe lambs have found the hay in the ponies' Haybell
Thursday 29 November
Dan and I set aside some time this morning to talk about future business opportunities here at Dalmore. Exciting times!
Dan delivered a load of manure to the community garden, then I went to pick up a tonne of layer pellets. I'm picking up a tonne of beet pulp pellets next week, then that's me set for winter!
Started making a chocolate stollen – I made it years ago and Dan's always asking me to make it again. I fear, like old TV programmes, it won't be as good as he remembers. It's a bit of a faff to make too. Made some Florentines from the Green&Black cookbook but they're not as nice as Mary Berry's recipe. However, I did manage to make them a better shape.
Friday 30 November
Bright, sunny and windy. Baked the stollen – as I expected, not as good as we remembered. Made lebkuchen – rounds and stars to get in the Christmas spirit - and gluten-free gingerbread biscuits.
Dan made gallons of soup for tomorrow's course – Tuscan Bean, Smokie Cullen Skink and Broccoli & Stilton.
Saturday 1 December
Nice day again and it was great to welcome the lovely Jane Wilkinson from Special Branch Baskets back to do a festive willow course. The participants made willow decorations and a mixed wood wreath – they all looked fantastic.
I managed to get into the veg garden to do a bit of weeding; then planted the double tulip bulbs I bought for cutting. There are five varieties – Angelique, Uncle Tom, Mount Tacoma, Sunlover and Blue Diamond.
Sunday 2 December
Grey but dry and quite mild.
Dan and Andy started on the new muck bay.
Urquhart is a bit lame again, so quick pedicure. There was a new green bum this morning – No10 – bit disappointing but at least the raddle was still working. I should have topped it up end of last week and was a wee bit concerned that maybe some had been served and not marked. Put some more on although he'll be coming out on Wednesday.