Posted: Friday 16 July, 2004
Yesterday we had an unexpectedly early telephone call from our butcher to tell us that the largest pig had been prepared and was ready to go, some 36 hours before we had expected. Last night saw some feverish activity preparing the basic brine to make bacon with the belly pork, and finding a suitable vessel in which to do the curing. After a moment's panic a rummage through the cupboard revealed a cool box which should be just the thing.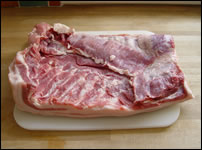 This morning at 7.30am I popped up the street to collect the pork, and delivered half (60lb) of it to friends near Saline, who kindly supplied us with saltpetre (since Rosemary had 'tidied' ours away...). A gift of some raspberries in return kept us all square!
Immodest as it may be I have to say the pork this year is fantastic. Just the right amount of fat and very, very tasty (we had a couple of chops for tea tonight). We seem to have learned from last year's experience not to overfeed the pigs even if they do look hungry!
A lot of the pork has gone straight into the freezer, but some choice cuts are getting special treatment. Apart from the belly, which will hopefully make fine bacon, we're going to cure a couple of pieces of leg and a shoulder. We're using a wiltshire wet cure, consisting of beer, salt, black treacle, black peppercorns, juniper berries and saltpetre (according to HFW's recipe). The odour while it was boiling was wonderful, so hopefully the end product will be equally good. IT'll soak for 3 days in the cure, then be hung to dry for a day.
I'm hopeful that we'll have our smoker ready for the middle of next week, in time to smoke the belly and the cured hams. It's based on a single boiling ring and is being built by my dad to his own design. I'll post pictures and plans here once it's completed. Our friends in Saline have once again come to our rescue, this time with the promise of oak sawdust for the smoking.
The other bit of processing we're preparing for is sausage-making, probably tomorrow but maybe Sunday. We've got the pork looked out, casings soaking in water (they come packed in salt and need a good soak and rinse before they can be used) and the Kenwood chef all primed and ready to mince. We'll try to learn from our first sausage-making exploit, when we used far too much lean meat and not enough fat. They were a tad dry, but tasty nonetheless!
We'll get the other 4 halves back from the butcher next week, this time frozen and boxed for our other customers. If anyone wants to pre-order for next year let us know!