Posted: Sunday 18 January, 2004
On Friday we returned from a short break in the Lake District to find an email from a farm in Dumfries which has Tamworth weaners available. As previously mentioned our source of last year's weaners had told us before Christmas that they would have no litters this year, and we were struggling to find another source close enough to be practical. So Rosemary placed a wanted ad in the Smallholders Online newsletter and lo and behold it looks to have done the job. Dumfries isn't exactly local, but the 3 hour journey each way in our old Land Rover will be well worth it.
This morning we reassembled the pig ark in preparation for our spring arrivals. It needs to dry out a bit before we can recoat it with a water-based wood preservative. We're creating 2 more pens the same size as the one we used last year for our first pair of Tamworths (about 40x30 feet), and plan to implement a 3 year rotation. So this year (2004) the original pen will be cultivated with vegetables (mostly potatoes), next year (2005) we'll sow some sort of ground cover / fodder and the year after (2006) it will be back to pigs again who will clear the ground cover / fodder.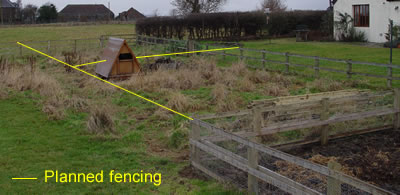 The photo above shows the corner of the existing pig pen in the bottom right hand corner, the reassembled ark and the planned new fencing. Since the ark has a door at either end we've located it on the fence line so we only have to move it every other year. The fencing will begin in earnest in a couple of weeks...