Posted: Saturday 21 February, 2004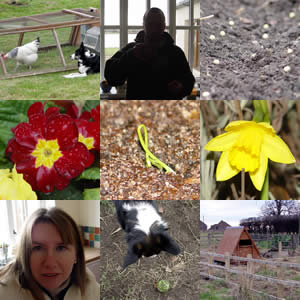 Another busy Saturday, thanks to the clement weather. I got out into the old pigpen (rotovated last weekend) and made beds for and planted broad beans (Stereo) and early peas (Douce Provence and Pilot). The pigpen is about 30 feet by 40 feet, and I'm using a system described by Eliot Coleman - 4 foot beds, each separated by a 12 inch path. The width of the bed allows access from both sides, reducing soil compaction and making maintenance a whole lot easier. The pen has been divided down the middle so in total we've got 12 beds measuring 4 feet x 18 feet.
Since the tilth isn't terribly fine the crops will be those which don't mind a few lumps and bumps - potatoes, beans, peas and courgette mostly. A couple of the beds will be given more attention, and fennel, mangels and sprouting broccoli sown in them.
The leeks sown on the 8th Feb have germinated well and are starting to straighten, and we've got loads of salad to be transplanted into coldframes tomorrow.
This afternoon we started fixing the rails to the fence posts for the new pigpens. Rather than risk my thumbs we hired a nailgun from the local hire centre. It may cost more than the alternative, but boy did it save time and produce a better end product. The fence is a bit odd in places with some posts sticking out above the top rail a lot more than others, but it'll keep the pigs in!