Posted: Tuesday 29 March, 2011
As of now, 1pm, Luna is hanging on.
Jinx and Lyra have been out with their lambs. Very exciting - what's all this green stuff, Mum? As I was coming in for lunch, I looked over the gate and Jinx's lamb was flat out, sound asleep. Lyra's lamb was tailed this morning, Jinx's yesterday - we don't castrate our tup lambs.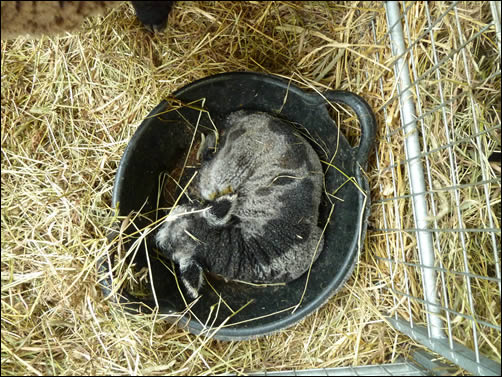 Juno's two, Pixie and Poppy, are doing great. Their eyes are fine now and they were tearing about the pen this morning. They are pretty grubby - being born on to a bed of sand does nothing for the coiffure, but they'll clean off in the first rain shower.
I did toy with letting them out today but I'd quite like to keep them back as company for Luna, if she gets a move on.