Posted: Saturday 8 September, 2007
There was great excitement today as the foundation stock for our pedigree Ryeland sheep flock arrived.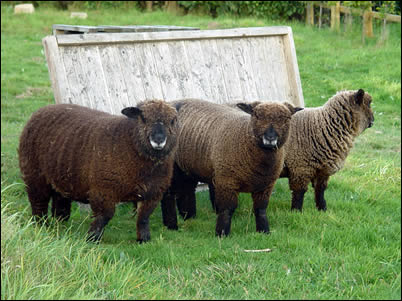 Dan was out at the crack of dawn finishing setting up the new electric fence. To be honest, we've not had good reports about sheep and electric fencing, so we'll try it and see how it goes. At the moment, it's only used to keep them out of the orchard, so if they get through it, it's not a great disaster. The first to get zapped by the fence was a Black Rock hen - no eggs from her today!
The second was Meg, who had been through the fence fine but on the return, she stopped half way with the middle strand on her back. What a yelp! I felt so sorry for her, but she's none the worse for it.
Jane and Ian, the breeders, kindly delivered the three ewe lambs this morning. To save them coming right along with the trailer, Dan lifted them over the stile. Two are quite small - the dark brown one is somewhat larger!
I want to spend the next week or so getting them tame - they already recognise a bucket, but don't recognise me yet. The dark brown one, Juno, is the boldest and also the greediest (or maybe the greediest and therefore the boldest). She's also about half as big again as the other two, although she is about a month older and was a single lamb whereas the other two were twins (not with each other - each had a male twin). They are all half-sisters.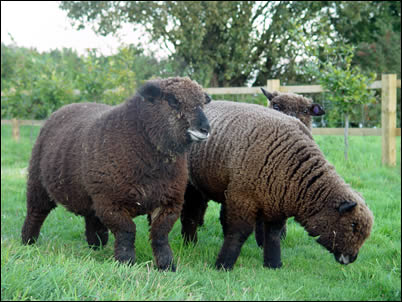 These girls are well used to dogs - Tess tried to move them and they lined up and looked her her as if to say "Oh yeah, you and who else?". To be honest, our dogs aren't that interested in sheep any more.
My only concern is their ears. They've just been tagged, so I'll need to watch for flies.
They are terribly cute, as you will see from the photos. Naturally, we will keep the diary updated with progress.