Posted: Monday 18 November, 2019
Monday 11th November
Grey and drizzly so it was time for a turn out of the kitchen cupboards. I do try to be tidy but inevitably, if we're really busy, stuff gets shoved back in, without much care. I also wanted to have a look at the bakeware I have – some is really old (it was my Mum's, but I think it's time for practicality to take over from sentimentality) and if I'm baking for ours and afternoon teas next year, I need some better equipment. Some some identified for recycling and a list being complied of new tins.
Took the horses out today – me on foot, Tara and Rebecca riding. Really looking forward to getting a saddle and bridle now. And a hat. Smokey was very good. Apart from his mullet tail, he's looking good. It was pretty wet, so the office got pretty steamy this afternoon.
Picked up two bales of hay – trying not to worry bout how much we using. Nothing I can do about it.
Tuesday 12th November
Picked up another two bales of hay and left them on the trailer. No7 has a yellow bum – that's all the Ryelands served.
Wednesday 13th November
Got a stomach bug. Feeling rough. Enough information. Poor Dan had to do all the animals today.
Thursday 14th November
Feeling a wee bit better; stayed in bed, mostly asleep until afternoon then got up and fed and mucked out the cattle.
Our septic tank was emptied. Glad I missed that.
Friday 15th November
Oh dear, our empty septic tank seems to have come adrift from its concrete pad. It's not covered by our house insurance (dammit) but it should be fixed Monday / Tuesday next week. So we are using the outside WC – thank goodness for that (it has its own septic tank) – but we can't use the dishwasher, washing machine and can only shower irregularly and "naval fashion".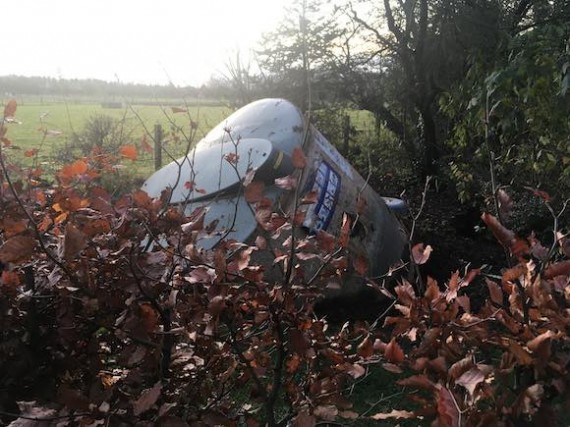 Oops!.Dan's now feeling ropy, so I walked the dogs with Linda and Mickey. It's amazing how quickly they get into a routine. At 2pm now, Bryn and Gwenna are at the door, ready to go. Mickey used to have a recall issue but he's good now, if our two are there. And Dan growls at him, so he runs to Linda to get his lead on.
Quick trip up to Forfar for sheep feed, a lick for the tup lambs (compensating for their rubbish grazing) and a bit of shopping.
Starting to organise weaning the calves, in my head. The steer calf we bought to partner Archie (called Charlie) lost his mum to magnesium staggers this week. He's five months plus, so he'll be fine; Archie will be seven months on 9th December, so we'll move both to East PItkerro round about then. Zephyr will be good to go then too, although Rosie will miss her – she bonds far more with her calves than Annie or Blizzard.
Saturday 16th November
Bit grey this morning, but mild. Kit, the Shetland ewe, has a yellow bum. She'll be the last because I changed Urquhart's raddle to green this morning. No sign of Bambi or the three BFL yet. Bambi failed to lamb this year. I checked No2's udder this morning and it felt fine; planning to get a better look, with Dan's help. If it IS OK, I'll put her in with the tup.
Blizzard is a bit lame; her feet are long. I cleaned them this morning as she'd a lot of crap (literally) stuck between the cleats (it's her off hind for sure and maybe her near hind too). The feet on all of them are long, so I'll get the trimmer out as soon as he can come.
That prompted me to look back the diary (see, it is useful) to see when the cows were served – Rosie 1st August, Annie 3rd August and Blizzard 3rd October. Haven't seen any of them repeat, so they'll be due 11th May, 13th May and 13th July. And breathe.
I'd have preferred to have them past 12 weeks before getting the trimmer, but foot trimming here isn't really stressful, either physically or psychologically. They don't like it, but it's generally pretty calm. And I can't leave Blizzard with sair feet.
Tara, Rebecca and I walked the ponies out in hand today – good brisk walk along the railway. Smokey went in front and kept up a good pace – well pleased. He seems to be enjoying it, too.
Did some office work because Monday is to be nice and I want to spend it in the garden.
We've received all our processed yarn from The Natural Fibre Company. We sent 64kg of raw fleece – 30kg of dark fleeces, 17kg of white fleeces and 17kg of white and light coloured fleeces. WE wanted the 30kg of dark fleeces processed as one batch and the 34kg of white / light fleeces processed as a second batch, hoping to get close to the light yarn we produced in 2016. I haven't opened all the boxes yet but it seems we have three different shades, one in batch one and two in batch two.
We got back 631 50g balls of DK yarn, so that's 31.55kg, a yield of 49%. Dalmore Croft deals with processed yarn, so bought the raw fleece for £2/kg, £128 and the processing was £2875 including VAT. That works out at £4.60 a ball. We sell it at £6.50 a ball, so a gross profit of £1.90 per ball, less cost of sales. For these small quantities, yarn festivals are just tooo expensive so it's mainly internet sales. We're lucky to have an on-line shop but the marketing takes time and / or money. To be honest, sadly, I'm not sure it's worth it.
Sunday 17th November
Lovely day, dry and sunny. Got into the veg garden for an hour then did some bits and pieces in the office as it clouded over. The next three days are forecast good, so planning to be outside.
Niamh has a green bum – not unexpected. Caught No2; her udder looks fine so she's in with Urquhart. I hope she gets in lamb. She's Niamh's daughter and a nice wee ewe – looks really like Niamh. Filled all three sheep hay racks - all picking away at them.
Took two bales of hay to East Pitkerro; a bale lasted from 3rd November to 17th November. Foot trimmer coming on the 30th November.