Posted: Monday 24 August, 2020
Monday 17th August
Grey and damp, bit of a breeze. But low pollen and that really helps Smokey's breathing. Spent most of the day in the new, refurbished office but got out for a lovely hack with Rebecca and Tara in the evening. Smokey was very good and his breathing much better than it has been for a while.
Ian the Stone Mason called, so he's coming to see the stone in the byre with a view to purchase. It will need to be removed before work starts on the fit out. Bit more progress.
Dan had the advisory service in today.
Tuesday 18th August
Grey, mizzley and still. Had to do some Festival, Smallholding Scotland and SCBA stuff in the morning. Jim the Roofer and Graham the Joiner have given us prices for the work we need done – both are absolutely fine, so work will commence shortly, to be completed by the end of September, so that we can move the freezers while they are still relatively empty.
Attended a Young Crofters Gathering – nice of them to let me in since I'm neither young, nor a crofter. Yet.
Rode out with Tara and Rebecca this evening, across the golf course – well, along paths, not across the fairways.
Finished the day with an SCBA Committee meeting. All very satisfying.
Wednesday 19th August
Sunny spells and warm. Planned to go to the feed store but it didn't quite happen. Woke to no power, so things got held up. Met a friend in Forfar for a cuppa, did some shopping then off to East PItkerro to check the steers.
After lunch, did the pony chores then the stone mason arrived to see the stone dividers in the barn, but they're of no value so it'll be a sledgehammer. So, we're good to go on the fit-out. Contacted our electrician – we need another couple of strip lights and some double sockets for the freezers.
Thursday 20th August
This morning, I needed to go to the feed store for a tonne of layer pellets and six bags of sow rolls. The flat trailer was about ¼ full of muck so needed emptying first; now, I've never been to the muck heap so Dan said he'd come with me BUT I had to reverse the trailer. Now, I know I SHOULD be able to reverse the trailer but I can't; Dan's been at me for years to learn. So, I had a go today and I'm now determined to master it. I mean, how hard can it be? Watch this space.
Penfold has been on antibiotics for a month, treating a bladder infection. I felt he was losing weight and he always seemed hungry, so I suspected thyroid; took him to the vet, and it's actually his kidneys. Not surprising in an old cat. So, he's on a special diet, which he loves, and has had a pill every day for a month. To check that the antibiotics have worked, the vet wanted a second urine sample. So yesterday evening, Pen was shut in the office with food and water and a litter tray with plastic beads, to do his stuff. By this morning, he'd done ALL his stuff and the office was rank. Sample taken, in the fridge for dropping off this afternoon. Tray cleaned – bleurgh. Trying to stop any plastic beads going down the drain was challenging, but I think I was almost completely successful. Maybe one or two escaped L
Off to Arbroath to pick up Lorna – forgot the sample. Phone the vet when I get home; lab shut on Saturday, if they don't get it today, we'll need to take another one on Monday after picking up a new sample kit. I'm relating this to Dan and he's out the door like a rocket, car keys and sample in his hot little hand – obviously didn't fancy working in Pen's WC again!! And who can blame him. Hopefully, we'll get the results next week – I think he looks better; he seems to have put on weight and his coat is blacker and shinier. He's still a terrible mooch though.
Rosie and Annie are now past their repeat service dates and Ace seems to be uninterested, so hopefully that's them back in calf, for May next year.
Friday 21st August
Housework this morning – it's a rubbish job, but someone's got to do it. Dave the Electrician popped in to see what we want done; he's gave Dan a list of materials, so they're ordered to come next week.
I'm sure I did more than this but it obviously wasn't very memorable. Ordered dressage area markers for the field, so we can do some schooling out there – assuming it stays dry.
Saturday 22nd August
Windy, dry and sunny – but the wind keeping it cool. Rain showers in the afternoon. Was planning to ride but didn't quite manage it.
Harvest is upon us, so it was plums, gages, peas, courgettes, tomatoes and blackberries this morning. Braw! And our tatties – Rooster – look the best ever.
Next job was clearing out the byre, ready for the work to start next week.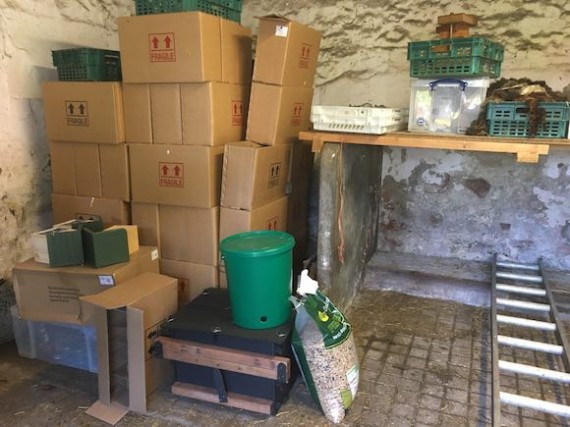 Byre before.
We (Dan) were going to take out the troughs that we carefulyl filled with concrete a few years ago but we've decided to frame round them instead.
Sunday 23rd August
Mostly sunny and warm with a few rain showers. It's been a bit of a relaxed day, which was nice. I pulled another bag of ragwort; Dan made rye crispbreads and cooked a joint of Shetland brisket for dinner – it was delicious. We're so very fortunate.
Dan did a quick bee check - we have three colonies, all doing well, so he's pleased with that.
I did some Festival stuff and cleared my desk for the coming week – and wrote my list, of course