Posted: Monday 4 April, 2011
We've had a lovely weekend; windy but warm and sunny. Which is nice, because the lambs are outside now.
Dan and I and John and Linda have been focussing on what will be the fruit garden this weekend. It is 12m x 9m and walled on three sides; it was quite overgrown last year, although we cleared a bit for beans, leeks and potatoes. In autumn, we cleared one half and covered it with horse poo and black plastic; a few weeks ago, Dan forked it over and John planted our early potatoes. The other half, apart from a wee bed with the rhubarb in it, was still overgrown.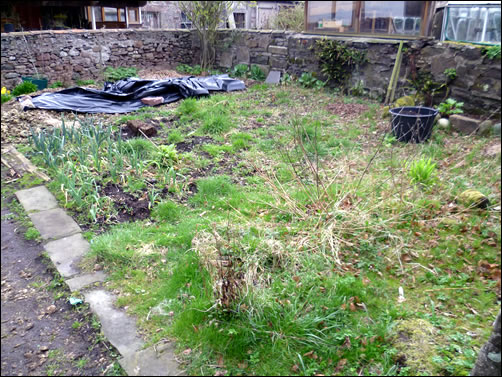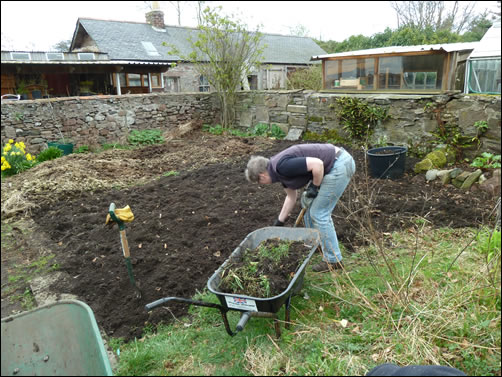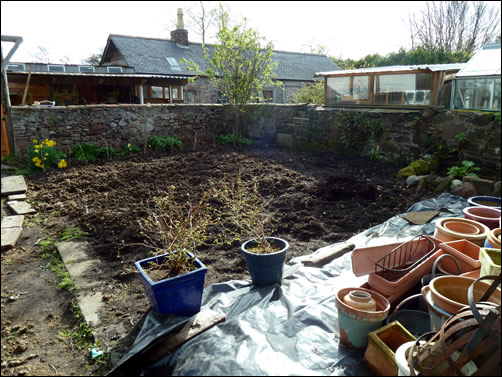 We had two gates made and hung, and on Saturday, John put chicken wire along the fourth, unwalled side to keep the dogs out until we build the new wall. Thus protected, we started clearing it and spreading the remaoning manure theat was in there. What a difference!
One part is full of roots from a nearby lime tree, so we've covered that with black plastic and it's a storage area for our combined flower pot collection and the two potted blueberries. We've left some flowering plants along one wall on the south side.
John brought some Autumn Bliss raspberry canes from their old house, so they have been planted in one row. We have room for another 4 rows of raspberries, so we've ordered some GlenMoy, which is an early fruiter and will form the second row. We will order another three varieties, I think.
We also ordered nine gooseberry bushes- 3 Hinnomaki Red, 3 Hinnomaki Yellow and 3 Invicta. It was a bargain at £19! We planned to have 4 gooseberries, but it was an awful good deal, so we'll fit them in. Another good deal was the five blueberry bushes for £20 - these will go in large pots in ericaceous compost. The two we have did well last year - I'll give them a good mulch of manure this week to encourage them to repeat last year's success.
So just blackcurrants, more raspberries and some strawberries to get now and the fruit garden will be up and running. But we'll have to wait for the early potatoes to be lifted first.