Posted: Monday 30 January, 2006
Shortly after Felix moved in, he was introduced to the three horses in the field across the track. I don't THINK he had seen horse before but, in typical Felix style, he was quite relaxed, touching noses with them as I held him.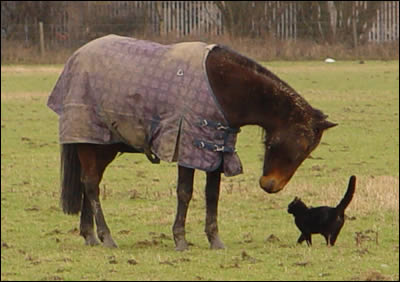 Well, what did we start? Felix has an obsession for horses. Twice recently, we've found him way up the field, but yesterday he outdid himself. The photo really doesn't do him justice. He was rubbing round their legs, especially the horse in the photo, but the other two weren't excluded. At one point, he had his paws up the horse's front leg and looked like he was licking it, in the same way as he stretches up us and licks our ears or noses. The horse seemed quite relaxed about it all.
I hope he doesn't get hurt - the horses certainly aren't threatened by him in any way - but we can't watch him all the time. I wonder if he's going to take up riding...