Posted: Sunday 9 March, 2008
One of the symptoms of an underactive thyroid in dogs is that they don't shed their skin in the normal way - so when the medication kicks in, all that retained skin comes off. So Meg now has SERIOUSLY bad dandruff. Today, we bathed her with a special shampoo. We don't bath the dogs often - well, actually, never. If they are really minging, they get hosed down outside and dried with a towel. Both have quite short coats and are pretty clean - I'm sure sure they're not "doggy" although it woudl probably take a "non-doggy" person to judge that.
Dan wanted to shampoo Meg outside, but I insisted that she went in the bath so we could have warm water. I know she was swimming in the Dam yesterday, but that's not the same as a bath. Anyway, I didn't want to have MY hands in cold water!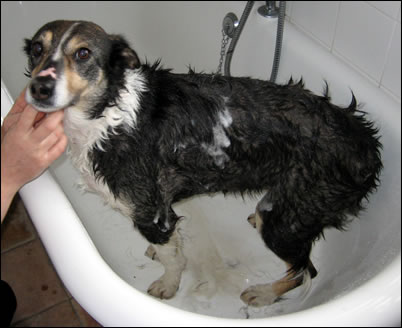 She was as good as gold (as Meg is generally), although I don't think she enjoyed it much. She's still flaky but she'll get washed again next weekend, too. The hair on her chest has grown back a lot and her tail's not so ratty; her nose is still bare though - the vet says it might be months before all the hair regrows. Just as well summer's coming!