Posted: Thursday 15 March, 2007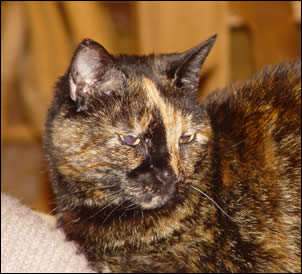 Today we said "goodbye" to our wee tortie cat, Copper. At close to her 18th birthday, she'd had a good long life and she was so poorly that the decision wasn't hard to make, in the end.
Copper came to live with us three years ago, as a companion for our old cat, Homer. She was a real character - a real "little madam" and I'm sure she must have been a real fiesty youngster. Although she was quite a big cat (a 5kg cat in a 6.5kg body!), she had tiny paws and bustled about - she was a very busy cat, with an agenda to stick to. Like many females, she was quite vocal and was very good at letting you know exactly what you were required to do. Because she didn't go out much latterly, her claws were quite long , and we would hear her tippy tapping on the wooden floor, through to our bedroom in the early morning for a quick cuddle. Because she wasn't able to jump up on to our bed, she would scratch the bedside cabinet and call loudly to be lifted up. Actually, she probably could jump up, but why bother when you have well-trained humans to do the lifting!
Although she was diagnosed with kidney failure in October, medication and a special diet kept her well over this winter. In fact, on Sunday, she was out around the garden, chewing the newly emerging catmint and generally supervising operations. She was a bit quiet on Monday, which I put down to over exertion at the weekend (you know how it is!) but yesterday she was clearly quite unwell. Blood tests by the vet confirmed she was in acute renal failure. She came home last night to a roaring fire and lots of cuddles and Sarah, the vet, came out this afternoon to do the deed.
Copper's buried beside Homer, under a mass of Tete-a-tete narcissi. We'll miss her hugely.