Posted: Monday 2 March, 2009
Our cat, Cassius, was put to sleep today. I have written his obituary in my head a hundred times since he was diagnosed with cancer almost two years ago, but it doesn't make the real thing any easier.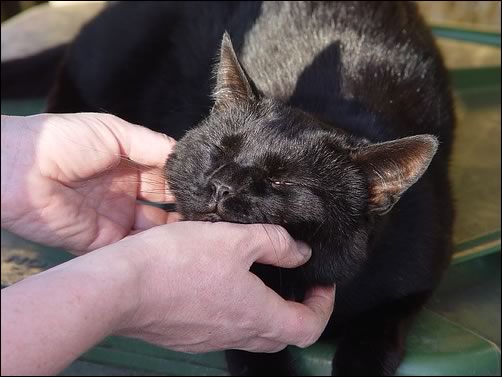 Cassius was a special cat. Before writing this, I searched the diary for previous entries. It was lovely to see him and to read about him at various times since he came to stay in March 2001.
He was between 6 and 10 when we got him as a rescue cat from the SSPCA. He had been an unneutered tom and, I suspect, was pretty good at looking after himself. He was a great hunter and an even greater scavenger. His taste in food was wideranging. Rabbits and small rodents were easy prey - and Cassius never played with his food. Of food he wasn't required to catch, prawns were his favourite; but also chicken, corned beef, crisps, curry, chilli, chips (the wee crispy bits especially - he's steal them off your plate if he could), anything dairy were all on his menu. He loved cream - preferable organic and double.
Cassius ruled the roost. He wasn't just top cat, he was top animal. He was the iron fist in the velvet glove and thought nothing of lying in wait for the dogs and giving them a good whack - I think he worked on the premise that they were either coming from mischief or going to it. Dan nicknamed him Beelzebub or the Prince of Darkness.
We bought a "play tower" which sat at the end of the living room, Cassius claimed it for his own, and would sit on the platfrom surveying the room. Dan said he was like the Eye of Sauron and the tower was christened Barad-dur.
Cassius had a chequered health record. Even in the credit crunch, Petplan will deliver increased profits following Cass's demise. Generally, things went wrong at Christmas, and Dan spent a fair bit of various festive seasons in the vet's surgery. Cassius was such an exceptional nature that the vets and the nurses took him to their hearts. When he saw the cardiologist about his heart murmur, Ruth had to hold him by a running water tap to get him to stop purring long enough to hear his heart. If he was caged, he would stick out a paw to stop the nurses passing so they would talk to him.
Cassius was diagnosed with cancer nearly two years ago. Until about three weeks ago, he was essentially fine. Regular anti-inflamatorry drugs and antibiotics kept the problem at bay. Then the cancer in his upper jaw and face started to grow quite rapidly, disfiguring his face. Over the weekend, it became clear that he was struggling to eat and when the vet was unable to offer any hope this morning, we decided to let him go before he started to suffer. His death was peaceful and we brought him home, so that the dogs and Felix could say "goodbye".
Cassius is buried in the garden, next to Homer and Copper. His death will leave a big gap in our lives - he was a big cat in every sense of the word. We count ourselves fortunate to have had him share his life with us and we'll never forget him.