Posted: Monday 14 July, 2008
Our broody hen and her small family seem to be fine.
The weather here was overcast and cool this morning, but at about 10am, the cloud cleared and it is now a lovely warm, sunny day. I checked on them both this morning Broody refused to stay out of the nest - if I shut her out, she was terribly agitated, so I decided to go with the flow.
As a mother who quite often has no idea what she's doing, I projected my fears on to Broody. However, her maternal instinct seems to be in good working order. She and chick have been out in the sun since it came out. Chick is pecking away at chick crumbs, with mum, and toddling about (he's not very good on his feet yet).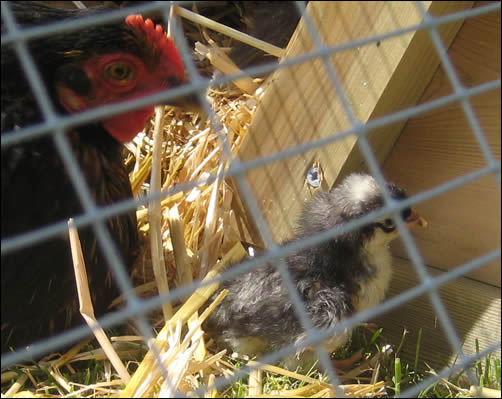 I am referring to the chick as a "he" but I don't actually know what sex it is - but it is a Cuckoo Maran not a RIR.
It really is the sweetest thing - he's cheeping and she's clucking back and seems immensely proud of her little brood. Just before I came through to the study, he scooted under her wing, presumably for a nap, after all his exertions.
I'm really glad we managed to get her a little family ( not that I'm sentimental or slightly hormonal) - hopefully, if she comes broody next year, we'll have our own fertile eggs for her to hatch. She's sat so tight, I would have no hesitation giving her more eggs, but back them up with the incubator. Now I've got the temperature sussed, I hope we'll have better hatch rates!