Posted: Tuesday 3 February, 2004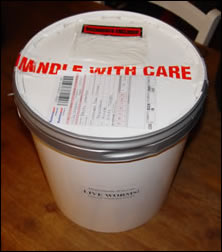 Today we became responsible for another 1,000 or so lives. Yes, our worms arrived from Worms Direct, in a big white bucket with 'Live Worms' pasted on the side. The bucket contains worms and some established bedding - mostly made up of worm casings - which should ensure a quick and stress-free move into their new home. I checked over our home-made worm bins, and made a few preparations for tomorrow's relocation - drilled some ventilation holes in the side of what will be the started bin; made a carpet cover for the top bin; soaked some newspapers to act as a barrier over the mesh on the bottom of the starter bin.
The worms won't be moved until morning. If moved at night there is a chance they will become disoriented and rather than making new beds in the bottom of the bin they might go upwards and escape the bin altogether almost certainly resulting in death. So the morning light will let them know which way is up, and hopefully they will settle quickly.
Once established we can expect them to eat nearly double their weight in scraps every day, so the compost bins may suffer. I have a plan though...