Posted: Sunday 26 March, 2006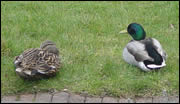 We seem to have been adopted by three Mallard ducks; two drakes and a duck. I've seem them in the field a couple of times recently, but today they were "sleeping" just outside the kitchen window.
Felix was stalking them yesterday but that obviously wasn't enough to scare them off (no surprise there, then). We've though about getting a few ducks, but we reckoned they would just decamp to the Inch. Maybe we could just tempt a few wild ones to come and eat slugs...