Once Upon a Flock – Life with my soulful chickens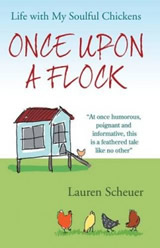 It's sometimes said that everyone has a novel inside them; that may be true and we're fairly regularly asked to review smallholdery type ones. In general, they aren't classics and when I was asked to review "Once Upon a Flock – Life with my soulful chickens" by Lauren Scheuer, I didn't get my hopes up.
But I was quite wrong. This a lovely, heart-warming book with lots to like about it. As the title implies, it's the story of Lauren, her family, including Marky, the terrier, and her small flock of hens but it's well written, funny (even laugh out loud funny in places), professionally produced and beautifully illustrated with the author's own drawings and photographs.
Lauren's experiences with her hens aren't unusual – hens that turn out to be cockerels; hens that get ill; hens that go broody; hatching one single chick – and so on, but she writes very well and I loved the illustrations.
I took the book on holiday and although it's 241 pages, I read it in a couple of sittings and while it's not a cheap book, the quality is very good and I'd certainly have no problem giving it as a gift to a fellow chicken-lover.
Read more about Once Upon A Flock: Life with My Soulful Chickens