Review of Smallholder Series: Establishing Your Flock DVD
I have long hankered for a look at The Smallholder Series Sheep on your smallholding DVDs so I jumped at the chance to review the first of the series of four, "Establishing your flock". This first DVD in the series covers buying and basic management of a small flock of sheep.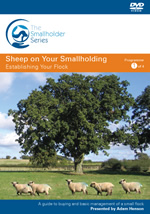 Presented by Adam Henson and lasting an hour and twenty minutes, it's well produced and covers all the basics of small flock management – your circumstances, what do you want sheep for, breeds, rules and regulations, setting up your flock and The Shepherd's Year. There are interviews with some sheep keepers, including a sheep dairy farmer and a newbie to sheep keeping.
Having kept sheep for six years now, there wasn't anything really new for me but it was interesting to see the dairy sheep in particular.
The other three DVDs in the series – Managing your flock for peak health, The Breeding Flock and Sheep for business, enterprise and profit – will be of more interest to me personally, but the target audience is anyone considering keeping sheep for the first time, or who is brand new to keeping sheep.
The most interesting part for me was "The Shepherd's Year", which was the part that was dealt with the fastest, but I suspect that much of the detail will be picked up and expanded in the DVDs on breeding and health management.
For a genuine beginner, the DVD has much to offer and certainly complements other information sources such as books and courses. However, I'm not sure that it is a resource that you would go back to time and again – it's a "one watch" DVD. But the standard of production is such that I'm looking forward to watching and reviewing the other three DVDs in the series.