Pigs: A Guide to Management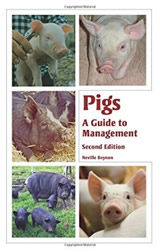 Pigs: A Guide to Management by Neville Beynon has a wealth of information that will prove useful to all pig keepers and breeders.
Lots of facts, figures and charts which cover peak fertility times, growth rates, housing sizes and lots more besides.
However it's written very much from the commercial side of the fence, assumes the pigs are modern, indoor types and profit/return is the driving force behind the readers' pig keeping venture.
While rare breeds are mentioned, sadly there's no specific information about their differing needs compared with modern hybrid pigs or the benefits of a slow grown, outdoor existence.
Although a great source of information (and invaluable if you have aspirations of becoming a large scale, modern pig farmer) there are other books, more focused on keeping pigs in a smallholding set up which would better serve the needs of a fledgling keeper and provide more relevant and helpful advice.