The Illustrated Guide to Cows by Celia Lewis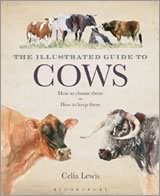 This is the fourth in the Illustrated Guide series – "Pigs", "Chickens", and "Ducks, Geese and other Domestic Fowl" preceded it.
I love these books – I have huge admiration for anyone who can put pen, pencil or paint to paper and produce anything as lovely as the illustrations therein. Some sixty two breeds are profiled, each with beautiful paintings by the author.
As well as the profiles, there is information on acquiring and keeping cattle, milking and processing milk, beef cuts and tanning hides.
It's all kept pretty simple – this isn't a text book, with pages and pages of detailed nutritional information for example – but it covers the topic in enough breadth and detail to give a flavour of the issues around small scale cattle keeping and anyone inspired by the book to keep cattle will surely go off and do more detailed research anyway.
For anyone contemplating cattle keeping, for someone who loves cattle or for a person who enjoys animal art, this book would be a lovely gift.