Good Soil: Manure, Compost and Nourishment for your Garden by Tina RÃ¥man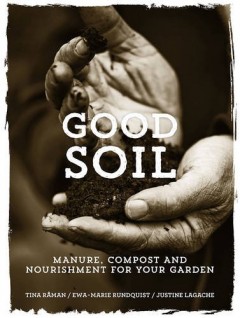 I guess this is what you might call a quirky book. It's certainly not a mainstream gardening book but it's a very nice book indeed for anyone who wants to grow, well, anything really.
The authors are Swedish and the guests that appear throughout the book to share their philosophies are also from that part of the world. The production values of the book are high – it's filled with beautiful photographs and the layout and style is easily readable.
But the content is great stuff! And it's all about soil and how to nourish it. So there's a bit about soil, biology and chemistry – not patronizing but not too technical – followed by chapters about the various sources of nourishment for the soil. Cattle, sheep, pigs, horses and poultry each have their own chapter – and so does rock dust, slaughterhouse waste, seaweed and, indeed, our own human waste as well.
Then there are chapters about the various crops – fruit, vegetables, herbs and flowers – and how to best nourish them. And there's lots of practical tips including how to assess soil structure, how to test for pH and a helpful garden dairy.
When I opened it, I thought this was going to be a pretty tabletop book – which it is – but it's much more than that and, as I get into my veggie garden, I think it's going to become a regular reference book for me and it won't be tabletop clean for very long.
Read more about Good Soil: Manure, Compost and Nourishment for your Garden