Fruit and Vegetables for Scotland - What to Grow and How to Grow it
When I first got this book I was not sure what to expect from it, however I found it was full of practical and useful advice and I would recommend it as a useful addition to any Scottish gardeners' bookshelf.
The authors have managed to convey their first hand experience of growing fruit and vegetables in Scotland. In addition, they have sought the advice of lots of well known Scottish growing experts and have included these experts' opinions and recommendations; even when the experts are suggesting different varieties to the authors.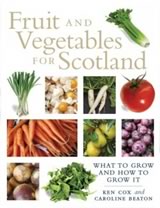 On first read through I found the name dropping of these experts detracted from the growing advice from the authors and I felt that it indicated a reluctance on the authors part to commit to their opinion which in turn undermined my confidence in their growing advice. However, since my first read through I have dipped in and out of the book when seeking opinions of varieties and types of different fruits and vegetables to purchase and grow. Having the authors advice on growing and their recommendations alongside other experts preferred varieties, I have come to appreciate the strength of this approach to the subject. Scotland has such a varied climate and environment in different areas. Some varieties will obviously grow better in some places and not so well in others; thus having different opinions truly makes this book live up to its title.
I was particularly impressed with the monthly activity chart for the vegetable and fruit garden in Scotland, printed on the inside of the front and back cover. This chart was both easily accessible for reference and is the first time I have seen this type of advice which is specific to Eastern Scotland. In other texts it always says that Spring planting should be delayed in northern climates and Autumn planting should be brought forward: the degree to which, varies depending on how far north you are. This is obviously correct advice but is infuriating when these charts are designed to be an at-a-glance checklist: having to moderate them each time defeats the time saving aspect of an easy to read summary chart. The charts in this book, do seem to match what I have been doing and when I have been most successful, so I will follow them over this next growing season for both the types of fruit and vegetables that I have been growing and new varieties recommended.
The book is laid out very logically and was both easy to follow for a complete read through and as a drop in reference book. I would say that the opinion and comment in the early chapters of the book is likely to become less accurate with the passage of time and some of the social and political comments may not be still be valid in a few years or there may be changes which make them irrelevant. This does not detract from the points that are being made and since the underlying argument; growing advice and recommended varieties are likely to stand up to the test of time, I do not think this will turn out to be a fault in the book. Indeed when I have read other older texts it is always interesting to see what problems beset gardeners at that time.
I found all the sections of this book easy to follow and laid out in a way that has made dipping in and out simple to do. Using two authors, one for the fruit and the other for the
vegetables means that the tone and style varies through the book, however the two styles complement each other and are enjoyable to read. In summary, I don't think any book can hope to be a complete reference text for all things in just under 300 pages. This book does however make a good stab at it and is pitched at a level above basic horticultural knowledge and experience, but is written and presented in such a way that I think it would still be a useful book for beginners as well as the target readership of experienced gardeners.
It will allow gardeners to save considerable time, especially with fruit growing, to benefit from the knowledge built up over a lifetime of growing in Scotland and go straight to the tried and tested successful varieties and techniques that will work.
Alastair Crozier
Read more about Fruit and Vegetables for Scotland: A Practical Guide and History