The Forager's Kitchen by Fiona Bird
If you l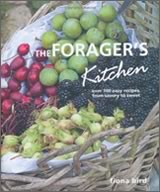 ove the countryside, foraging and cooking, then you'll enjoy this book very much. If you simply love beautiful cookery books, you too will enjoy it.
The author, Fiona Bird, divides her time between the Angus glens and the island of South Uist. Even as a mother of six, as the wife of a GP, I guess foraging is a lifestyle choice rather than a financial necessity.
The list of "useful kit for foragers" includes wetsuit (for collecting seaweeds), deep fat fryer (for tempura), juice extractor, food dehydrator, heavy-duty stand mixer, steam juicer and coffee grinder. This was a bit of a shock – when my Dad and went foraging, we took a plastic bag and a stick to pull down the highest branches. :-)
A minor irritation for me is that the recipes are American, with reference to superfine (caster) sugar, canola (rapeseed) oil and cups as measures. As a book for folk who "strive to cook with ingredients that are both local and in season", it jarred a bit – unless, of course, all the foraged ingredients are readily found across the Pond.
However, it's a beautifully presented book with an attractive layout and lovely photographs. It's divided into five chapters – flowers and blossom; woodland and hedgerow; fruits and berries; herbs; sea and seashore. Many of the 100 recipes could be made without foraging – for example, wild hazelnut and chocolate spread could easily be made with shop bought hazelnuts – but some, like elderflower cordial and sea lettuce butter sauce, do require you to get your coat on and get into the great outdoors.
I did get very over-excited about the "Wild and Wicked After Dinner Treats", a brilliant way of using fruit that has been soaked in alcohol to make fruit liqueurs and I am newly determined to plant a quince or two and some crab apples in the garden. Oh, and I won't call the Wild Cherry trees weeds anymore and I'm eagerly awaiting the dandelions and nettles this year. But whether I'll ever make Chantrelle and Chickweed Puffs is quite another matter.